Welcome to the Sakai Tourism Guide.
This Website provides Sakai's tourism information.
Come visit Sakai, the city brimming with history and culture!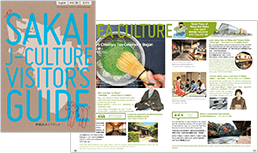 This is a guidebook filled with sightseeing information for Sakai City. It includes information on recommended sightseeing facilities, shopping and gourmet restaurants, in addition to historical and cultural facilities and places. Please download and carry this guidebook to enjoy sightseeing in Sakai.
(9.49MB)